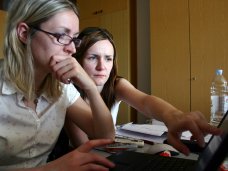 We have over 25 years experience in human resource management
Human Resources
We have over 25 years experience in human resource management. We can offer this service to organisations on a stand alone basis or as part of a wider range of work. This may include reviewing organisational structures, advising on target setting and appraisal processes, job evaluation, salary management, drawing up employment contracts, recruiting new staff, advising on other remuneration aspects such as pensions or bonus systems, etc. Recent examples include:
Praxis Care Group - a review of senior posts for the Board of Directors. This considered the roles of the Directors and Chief Executive, remuneration packages, pension arrangements, roles and succession plans.
Open Door - as part of a major organisational review, we made a range of recommendations in relation to staffing. This lead to us assisting Open Door by recruiting a Chief Executive and Technical Officer and facilitating the promotion of a further member of staff to a Deputy Chief Executive role. This included drawing up all employment documentation and carrying out recruitment processes from start to finish.
Northern Ireland Federation of Housing Associations - this Job Evaluation exercise for N.I.F.H.A. considered all posts within the organisation which were bench-marked with external posts. This allowed us to recommend salary scales for all posts within the organisation and advise on differentials and to establish a basis for future salary management.